Daily Moves Week 2 | August 8 – 14, 2022
Be ready to pay the price of your dreams. Free cheese can only be found in a mousetrap.
Paulo Coelho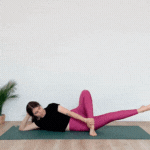 Boat to Canoe
20x – 3 rounds
Low Lunge – Half Split Flow
6-10 x or 30 sec
Lizard & Reach back
opt: lift the back foot
6-10 x or 30 sec
Hovering Table Top to Plank
6-10 x or 30 sec
Forearm Plank Shifts
6-12 x or 30 sec
Want to add a class to your Daily Moves?

Feel Good
Vinyasa flows to feel your best. 

Sculpt
Tone & build strength with pilates-inspired classes.

Release
Let go of anything that doesn't serve you.