Daily Moves Week 1 | August 1-7, 2022
Continuous effort, not strength or intelligence, is the key to unlocking our potential.
Liane Cordes
Thursday, August 4
do a quick child's pose afterwards to stretch out your arms!
Wednesday, August 3
repeat all exercises on one side, then switch
1 – 3 rounds of the three exercises
Tuesday, August 2
repeat 1 – 3 rounds of the three exercises
Plank | Leg Lifts
6-10x
switching sides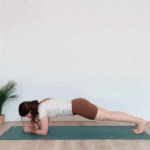 Forearm Plank
Lower your knees & lift
6-10x
Thread the Needle
Rotation for 30 seconds or 5x
Hold the pose for 30 sec
Balancing Table Top
Lift, Lower & Reach
30-60 seconds or 5-10x
Want to add a class to your Daily Moves?

Feel Good
Vinyasa flows to feel your best. 

Sculpt
Tone & build strength with pilates-inspired classes.

Release
Let go of anything that doesn't serve you.